What is COPD?
Chronic obstructive pulmonary disease (COPD) is a common condition that affects up to 10% of individuals aged 40 years or older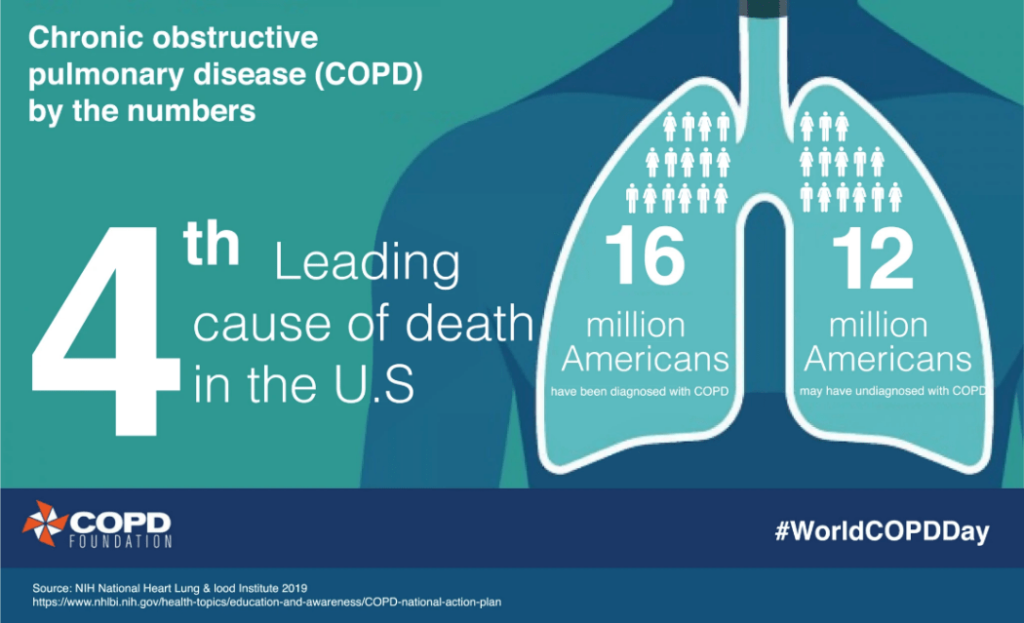 It's also the third-leading cause of death in the United States, killing more than 120,000 individuals each year.
Treating COPD can be complicated with all of the rescue inhalers and maintenance medications out there.
What's the first-line treatment for COPD?
The initial management of your symptoms will include using the "as needed" bronchodilator, albuterol (Proair, Ventolin, Proventil).
When your symptoms are no longer controllable with albuterol alone, then it may get a little more expensive with brand-name maintenance inhalers like Spiriva.
If you are still having COPD symptoms after using Spiriva, you and your physician may decide to add a third inhaler like Advair—or another long-acting beta-agonist (LABA) and steroid combination drug like Symbicort—is your likely next step.
What is Spiriva?
Spiriva (tiotropium) is a long-acting anticholinergic medication that opens up the airways.
Spiriva is available in two different forms:
Spiriva is NOT a steroid. Spiriva acts on chemical receptors in the airways to relax the muscles and increase airflow.
It is also NOT to be used as a rescue inhaler; that's what your albuterol is for.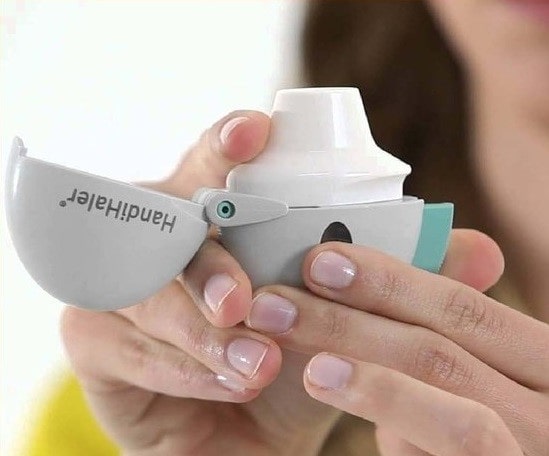 Dosage Forms & Strengths
Capsule (Spiriva HandiHaler; powder for oral inhalation)
1.25mcg/actuation
2.5mcg/actuation
For bronchospasm caused by COPD
Maintenance treatment of bronchospasm associated with chronic obstructive pulmonary disease (COPD); reduction of COPD exacerbations
For Asthma
Indicated for long-term, once-daily, maintenance treatment of asthma in patients aged ≥12 years old.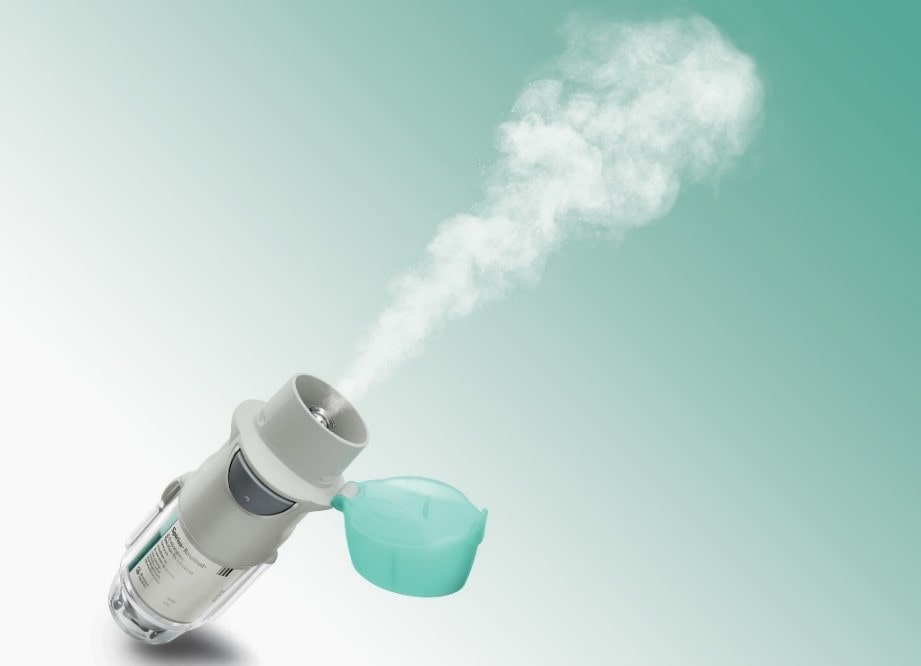 Spiriva works by relaxing the muscles that surround the airways.
For people living with COPD, the muscles lining the airways can tighten causing the airways to become too narrow therefore making breathing difficult (bronchospasm).
Two strengths, same results
Published evidence from comparative studies suggests that tiotropium Respimat® 5mcg (5mcg once daily, 2 puffs of 2.5mcg) and tiotropium HandiHaler®18mcg (18 mcg once daily) provide similar clinical outcomes in COPD, indicating that physicians can choose between the two inhalers with confidence.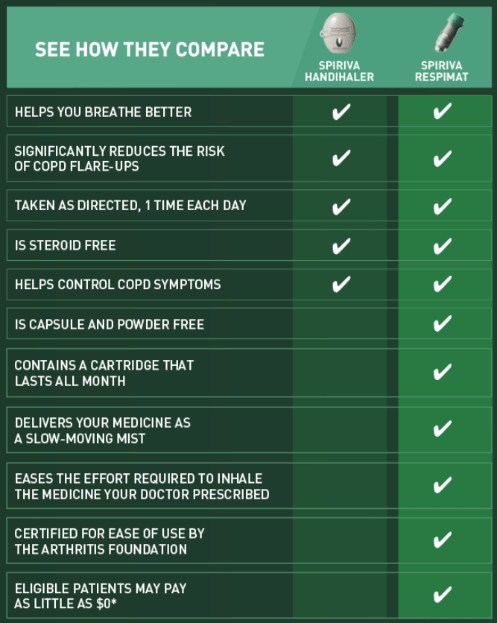 The same medicine, delivered with less effort
Spiriva Respimat Inhaler contains the same medicine as Spiriva HandiHaler, but delivers it in a slow-moving mist that makes it easier to best breathe in the medicine.
However, the amount of medicine the patient takes in is not dependent on how fast they are able to inhale—as patients receive one dose per day, which normally lasts for 24 hours.
For many people with chronic obstructive pulmonary disease (COPD), just breathing can be an everyday struggle. Many inhalers require patients to breathe in hard to best get medicine. So, Spiriva Respimat Inhaler is a better option at this point.
This article is sponsored by CanadaOnlineHealth If you have questions about your prescription medications or any other medication, please contact our team at CanadaOnlineHealth by calling toll free 1-800-399-3784. One of our patient representatives will be happy to assist you or transfer you to a licensed Canadian pharmacist for a free consultation.
This article contains medical information provided to help you better understand this particular medical condition or process, and may contain information about medication often used as part of a treatment plan prescribed by a doctor. It is not intended to be used as either a diagnosis or recommendation for treatment of your particular medical situation. If you are unwell, concerned about your physical or mental state, or are experiencing symptoms you should speak with your doctor or primary health care provider. If you are in medical distress please contact emergency services (such as 911).
Reference: